Complete Story

02/28/2022
2022 Presidential Inaugural and Award Winners
The Home Builders Association (HBA) of Dayton recognized its 2022 president at an inaugural ceremony last night at Carillon Historical Park. Other members of the HBA Dayton Board and award winners also were recognized.
At Friday night's inaugural event, Erika Deady was installed as the association's 80th bpresident. She represents the first two-year term HBA Board President and the third female president in association history.
"President Deady is the first two-term President of the HBA, which brings a tremendous amount of consistency and our ability to execute a vision for our members. Her focus on growing membership will expand our storytelling as to how housing is a missing component in economic development and how housing can help position the Dayton region as a job recruitment and retention destination," said Eric Farrell, executive director of HBA Dayton.
Deady is the sales coordinator at Oberer Homes, one of the region's most prominent local builders. She is a fourth-generation builder with Oberer Homes and resident in Bellbrook. She graduated from the University of Kentucky in 2008 with a marketing and management degree.
Deady follows in the footsteps of her father, George Oberer, Jr., who was Oberer Homes' CEO in 1985 and served as HBA president in 1990.
A release from Home Builders Association Dayton revealed the association's board directors as well as award winners, presented during the event.
Joining Deady on the 2022 HBA Dayton Executive Committee are:
Vice President Gina Coates of Coates Custom Homes
Treasurer Richard Graf of Hammerman, Graf, Hughes & Company, Inc.
Secretary Greg Page of Gregory S. Page Co., LPA
Immediate Past President Robi Simms of Charles Simms Development
Jeff Kelchnerof Clearcreek Custom Builders
Eric Woerner of A1 Mechanical of Dayton, LLC
Joining the officers, on the 2022 HBA Dayton Board of Directors are:
Jason Lincoln of Vita Modern Homes
Todd Casey of 84 Lumber
Tyler Quinn of Cambria
Joe Redden of The Appliance Gallery
Maria Shaw of Builders First Source
Council chairs elected to the 2022 HBA Dayton Board include:
Small Custom/Remodelers Council Chair Josh Dungan of JM Dungan Custom Homes
Past Presidents Council Chair Walt Hibner of CenterPoint Energy
Sales, Marketing and Associates Council Chair Katie Cutter of JEM Designs
Large Builders and Developers Council Chair Lance Oakes of Oakes Tree Development
The inauguration event on Friday was attended by more than 150 industry professionals and guests. Alongside its appointments, the ceremony recognized the association's distinguished leaders with several awards:
President's Award – presented to Lance Oakes of Oakes Tree Development by Erika Deady for recognition of personal efforts in association conversations and finding strategic partnerships.
HBA Community Partner Award – presented to the Dayton Metro Library and Centerville School of Possibilities for their work promoting workforce development and career opportunities available through skilled trades and residential construction.
Industry Partner Award – presented to Thrive Mortgage for outstanding contributions for the 2021 Homearama which was HBA's first single-site Homearama in nearly a decade.
Member of the Year – presented to Chad Henry of Choice One Engineering for commitment in volunteerism and attendance at all Builders & Developers Forums. He also advocated for housing and local jurisdictions to examine how a more robust housing stock is the missing piece to a more global economic development strategy for the region.
Builder Members of the Year – presented to Josh Dungan of JM Dungan Custom Homes for his master craftsmanship and servant leadership on Operation Finally Home where he supported partner efforts to provide a mortgage free home to Sergeant Aaron Zurn and his family.
Defender of Housing Award – presented to Congressman Michael Turner for his strong support for housing. This was the first award of its kind to be handed out at an HBA Dayton event to recognize an elected official's demonstrations of support.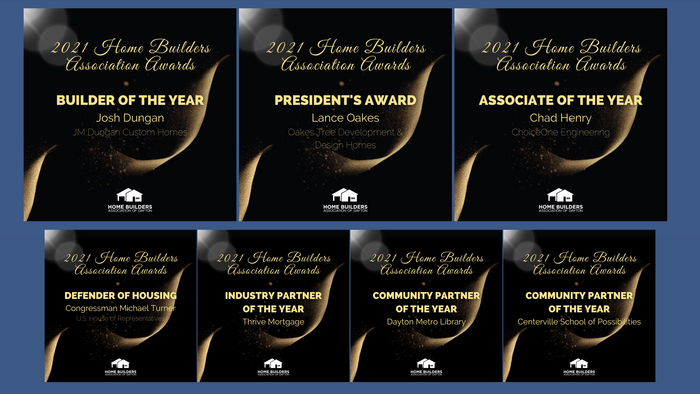 The Home Builders Association of Dayton, founded in 1942, is the region's largest residential construction trade association representing builders, remodelers, the skilled trades and other residential services. The organization promotes high standards of construction for the benefit of members, homeowners and communities in the Dayton area.