COVID-19 RESOURCES
(Updated 11/19/2021)
On Nov. 5, 2021, the Occupational Safety and Health Administration (OSHA) issued the COVID-19 Vaccination and Testing emergency temporary standard (ETS) to minimize the risk of COVID-19 transmission in the workplace. OSHA will require all employers—including construction companies—with more than 100 employees to mandate vaccinations for their workers or weekly COVID-19 tests to attend work.
Which workplaces are covered by the ETS?
The ETS applies all employers that have a total of at least 100 employees at any time the ETS is in effect and covers all workplaces including construction, manufacturing, retail, delivery services, warehouses, and healthcare.
Part-time employees do count toward the total number of employees, as well as employees who work from home (telework). However, independent contractors do not count toward the total number of employees.
Which workplaces are exempt?
There are exemptions in the rule that may narrowly apply to residential construction:
Workers who do not report to a workplace where other individuals are present or who telework from home
Workers who perform their work exclusively outdoors
When must employers comply?
The rule became effective Nov. 5, 2021. There are different deadline dates for provisions in the rule:
Dec. 6, 2021:

Written Employer Policy on Vaccinations, and Information Provided to Employees
Determining Employee Vaccination Status
Employer Support for Employee Vaccination
Employee Notification to Employer of a Positive COVID-19 Test and Removal
Face Coverings for Unvaccinated Employees
Reporting COVID-19 Fatalities and Hospitalizations to OSHA
Maintaining Medical Records

Jan. 4, 2022: COVID-19 Testing for Employees who are Not Fully Vaccinated
What does the standard require?
The main requirements of the ETS include:
Vaccination or testing. Employers with more than 100 employees to either mandate employees be fully vaccinated against COVID-19 or require employees that are not fully vaccinated to be tested for COVID-19 at least weekly and wear a face covering in the workplace. Employers must also determine the vaccination status of each employee and:

Obtain acceptable proof of vaccination,
Maintain records of each employee's vaccination status, and
Maintain a roster of each employee's vaccination status.

Vaccination records must be maintained as confidential medical records as long as the ETS is in effect and must not be disclosed.

Written employer vaccination policy. Employers must establish, implement, and enforce a written policy for COVID-19 vaccinations, testing, and face coverings.
Paid time off for vaccination and PTO/sick leave for recovery. Employers must provide paid time off to employees to get vaccinated and paid time off or paid sick leave to recover from the vaccine side effects.
COVID-19 testing for employees who are not fully vaccinated. Employers must ensure that each employee who is not fully vaccinated is tested for COVID-19 at least weekly (if in the workplace at least once a week) or within seven days before returning to work (if away from the workplace for a week or longer). Employers are not required to pay for any costs associated with testing, unless required by other laws or regulations.
Notification of positive COVID-19 test and removal from work. Employees must notify employers when they receive a positive COVID-19 test or are diagnosed with COVID-19 and employers are required to immediately remove any employee from the workplace, regardless of vaccination status, who received a positive COVID-19 test or is diagnosed with COVID-19 by a licensed healthcare provider and keep employees out of the workplace until they meet criteria for returning to work.
Face coverings for unvaccinated workers. Employees not vaccinated must wear a face covering (made of at least two layers of breathable fabric, secured to the head, and fit snugly over nose, mouth, and chin) when indoors or occupying a vehicle with another person for work purposes. Employees, regardless of vaccination status, may voluntarily wearing a face covering unless it creates a serious workplace hazard.
Provide information to employees. Employers must provide specific information to employees on vaccines, including the CDC's Key Things to Know About COVID-19 Vaccines and the requirements of the OSHA ETS.
Reporting COVID-19 deaths and hospitalizations. Employers must report to OSHA each work-related COVID-19 fatality within eight hours of learning about the fatality and each work-related COVID-19 in-patient hospitalization within 24 hours of learning about the hospitalization.
On multi-employer jobsites, are subcontractors included in OSHA's 100-employee threshold?
No, on a typical multi-employer worksite such as a construction site, each company represented—the host employer, the general contractor, and each subcontractor—would only need to count its own employees, and the host employer and general contractor would not need to count the total number of workers at each site.
The ETS discusses this issue and specifically references construction sites: In such cases, each company represented – the host employer, the general contractor, and each subcontractor – would only need to count its own employees rather than the total number of workers at each site.
What if an employee requests an exemption from the vaccination requirement because of a disability or religious belief?
Under federal law, including the Americans with Disabilities Act (ADA) and Title VII of the Civil Rights Act of 1964, workers may be entitled to a reasonable accommodation from their employer, absent undue hardship. If the worker requesting a reasonable accommodation cannot be vaccinated and/or wear a face covering because of a disability, as defined by the ADA, the worker may be entitled to a reasonable accommodation. In addition, if the vaccination, and/or testing for COVID–19, and/or wearing a face covering conflicts with a worker's sincerely held religious belief, practice or observance, the worker may be entitled to a reasonable accommodation. For more information about evaluating requests for reasonable accommodation for disability or sincerely held religious belief, employers should consult the Equal Employment Opportunity Commission's regulations, guidance, and technical assistance.
How is OSHA's affect state laws that limit employers' authority to require employees to be vaccinated?
OSHA's ETS preempts states, and political subdivisions of states, from adopting and enforcing workplace requirements relating to the occupational safety and health issues of vaccination, wearing face coverings, and testing for COVID-19, except under the authority of a federally approved State Plan. OSHA intends for the ETS to preempt and invalidate any state or local requirements that ban or limit an employer's authority to require vaccination, face covering, or testing. State and local requirements that prohibit employers from implementing employee vaccination mandates, or from requiring face coverings in workplaces, serve as a barrier to OSHA's implementation of this ETS.
Additional Resources
---
What Workers Need to Know about COVID-19 Protections in the Workplace
The best way to protect yourself is to stay far enough away from other people so that you are not breathing in particles produced by an infected person – generally at least 6 feet (about 2 arm lengths), although this is not a guarantee, especially in enclosed spaces or those with poor ventilation.
Practice good personal hygiene and wash your hands often. Always cover your mouth and nose with a tissue when you cough or sneeze or use the inside of your elbow and do not spit. Monitor your health daily and be alert for COVID-19 symptoms (e.g., fever, cough, shortness of breath, or other symptoms of COVID-19).
Face coverings are simple barriers to help prevent your respiratory droplets or aerosols from reaching others. Not all face coverings are the same; the CDC recommends that face coverings be made of at least two layers of a tightly woven breathable fabric, such as cotton, and should not have exhalation valves or vents.
The main function of wearing a face covering is to protect those around you, in case you are infected but not showing symptoms. Studies show that face coverings reduce the spray of droplets when worn over the nose and mouth.
Although not their primary value, studies also show that face coverings can reduce wearers' risk of infection in certain circumstances, depending upon the face covering.
You should wear a face covering even if you do not feel sick. This is because people with COVID-19 who never develop symptoms (asymptomatic) and those who are not yet showing symptoms (pre-symptomatic) can still spread the virus to other people.
It is especially important to wear a face covering when you are unable to stay at least 6 feet apart from others since COVID-19 spreads mainly among people who are in close contact with one another. But wearing a face covering does not eliminate the need for physical distancing or other control measures (e.g., handwashing).
It is important to wear a face covering and remain physically distant from co-workers and customers even if you have been vaccinated because it is not known at this time how vaccination affects transmissibility.
Many employers have established COVID-19 prevention programs that include a number of important steps to keep workers safe – including steps from telework to flexible schedules to personal protective equipment (PPE) and face coverings. Ask your employer about plans in your workplace.
For more details visit Protecting Workers: Guidance on Mitigating and Preventing the Spread of COVID-19 in the Workplace | Occupational Safety and Health Administration (osha.gov)
---
(Updates 01/07/2021) The Small Business Administration and U.S. Treasury Department have released new regulations on the expanded Paycheck Protection Program (PPP) as amended through the $900 billion coronavirus relief package that was enacted into law at the end of December.
The coronavirus rescue package provides relief for small businesses from burdensome loan forgiveness requirements; creates a "second draw" that allows small businesses to receive a second PPP loan of up to $2 million.
NAHB worked diligently for months to include these provisions and many other elements in the rescue package including rental assistance and a fix to the Low-Income Housing Tax Credit that would benefit the residential construction industry.
NAHB is currently reviewing the new regulations to see how they will impact our members. The rules can be found here:
For more information, contact Heather Voorman or Alex Strong.
---
(Updated 12/22/2020) First, the news you have all been waiting for - the PPP loan is not taxable and expenses paid with the loan are deductible. These rules of course apply only to the extent that the loan is forgiven by the SBA. The law goes on to further say that there are no basis reductions under Code Section 108. This confirms Congressional intent from the original CARES Act.
Second, there are NEW incentives in this law as well. They are:
New PPP Loans: You can get a 2nd PPP Loan if in any calendar quarter your gross receipts are 25% less than same quarter in prior year. The loan is again 2.5x average monthly payroll costs to a maximum of $2 million. You must have LESS than 300 employees. IF you are in NAICS code 72 (Accommodations and food services) you can get 3.5x monthly payroll costs. You can again choose any period between 8 and 24 weeks to spend the new loan. At least 60% must go to payroll costs.
Get prepared to request the money if you meet the criteria.
100% Deduction for Meals: in 2021 and 2022 100% of costs of business meals including carryout and delivery are tax-deductible.
Enhanced Employee Retention Credit: Pay attention to this because it may be better than a new PPP loan.
Beginning January 1, 2021 through June 30,2021 an employer can get a tax credit for 70% of qualifying wages. Creditable wages are $10,000 per employee per quarter ($20,000 max at 70% is a $14,000 credit per employee).
An employer qualifies for the credit if they have had a 20% decrease in calendar quarter gross revenue AND have fewer than 500 employees. An employer cannot also have a 2nd PPP loan so it is this credit or the 2nd PPP loan, not both (this credit is taxable income).
---
(Updated 08/17/2020) The Small Business Administration has issued an FAQ on loan forgiveness under the Paycheck Protection Program (PPP). Any members who have received PPP loans must be very careful that they follow all conditions and requirements of these loans in order to be eligible for forgiveness. View the updated FAQ.
---
(Updated 07/29/2020) On June 3, 2020, the Senate passed the Paycheck Protection Program Flexibility Act in hopes of helping small businesses more thoroughly take advantage of the provisions of the PPP. Here are the key takeaways.
---
(Updated 07/15/2020) The IRS has released Notice 2020-54, which requires employers to report the amount of qualified sick and family leave wages paid to employees under the Family First Coronavirus Response Act (FFCRA). FFCRA requires employers with fewer than 500 employees to provide paid leave due to certain COVID-19-related circumstances in 2020.
---
(Updated 07/09/2020) Please find this link to the most recent Ohio Department of Health Face Covering Order for those Red and Purple counties, effective June 8th. Feel free to contact OHBA with any questions.
---
(Updated 06/11/2020) Montgomery County CARES Act Grant Program
In June, Montgomery County will launch a new financial assistance program to help small businesses that experienced losses due to the Coronavirus pandemic.

The Montgomery County Office of CARES Act has allocated $40 million in federal stimulus funds to create grants that will help small businesses affected by the pandemic. Some basic information about the small business program:
Grants will be up to $10,000 per business
Must be locally owned
Must be located in Montgomery County
Must have fewer than 30 employees
Must have gross annual receipts of less than $1 million
Must not have already received federal assistance (SBA Economic Injury Disaster Loan, Paycheck Protection Program, or other programs funded by the federal CARES Act)
Please note that you will need to upload supporting documents in the online application. Click here for application instructions and a list of the documents you'll need to submit.
---
(Updated 06/05/2020) Congress recently passed the Paycheck Protection Program Flexibility Act, which makes significant changes to the Paycheck Protection Program (PPP), including:
Reducing the portion of PPP funds that must be spent on payroll costs from 75% to 60%.
Extending the "covered period" for spending PPP funds from 8 weeks to the earlier of 24 weeks from loan disbursement or December 31, 2020. Although borrowers who received a PPP loan prior to the enactment of the Paycheck Protection Program Flexibility Act can choose to continue using the 8-week period.
Extending the deadline to apply for PPP loans to December 31, 2020.
Extending the deferral period of PPP loans from 6 months to 1 year.
Extending the deadline to rehire employees and restore wages to pre-COVID levels to December 31, 2020, in order to have full forgiveness of PPP loans.
Providing an exception to loan forgiveness reduction if the number of full-time equivalent employees is reduced. This exception applies to borrowers only if they, in good faith, document an inability to rehire individuals who were employees on February 15, 2020, and an inability to hire similarly qualified employees for unfilled positions on or before December 31, 2020. Borrowers may also qualify for this exception by documenting an inability to return to the same level of business activity as they were operating at before February 15, 2020, due to compliance with health and safety requirements.
Extending the maturity of PPP loans that are not forgiven to 5 years.
---
(Updated 05/11/2020) Please review the following guidelines from the American Industrial Hygiene Association as you continue to implement safety protocols; specifically, reopening guidance for general office settings.
---
(Updated 05/07/2020) We have received BWC Payroll Reporting Guidelines from our partners at CareWorks Comp. If you have any questions, please contact Julia Bowling at (513) 218-4062 or by email: julia.bowling@careworkscomp.com
An informative presentation by our workers' compensation partner CareWorks on Ohio workers' compensation & unemployment compensation changes/issues related to COVID-19:
WATCH VIDEO
---
(Updated 05/05/2020) Please reference this Excel Spreadsheet for assistance in calculating your PPP and the forgivable portions.
Additional PPP links:
Paycheck Protection Program FAQs
IRS explains how to treat forgiven PPP dollars
Joint Statement by Secretary Steven T. Mnuchin and Administrator Jovita Carranza on the Review Procedure for Paycheck Protection Program Loans
---
(Updated 04/28/2020) The Ohio Home Builders Association (OHBA) has been working tirelessly to keep the membership informed and educated about the latest developments across the state. Here is the latest COVID-19 Updates and Resources from our State Association.
Contained in this document include Ohio's plan to responsibly restart Ohio's economy during the ongoing COVID-19 pandemic.The guiding principles of the Responsible RestartOhio plan are protecting the health of employees, customers, and their families, supporting community efforts to control the spread of COVID-19, and responsibly getting Ohio back to work.
---
(Updated 04/23/2020) On today's "Tools for Your Business" Webinar, Kim Woodbury from the Miami Valley Small Business Development Center discussed information on the PPP, EIDL, and provided information for how bank draws are calculated on applications. Please use this link to find more helpful tools from the MVSBDC.
You can access the slide deck from today's presentation here and their recommended guidelines pertaining to the PPP for SelfEmployed/Sole Proprietors.
---
(Updated 04/21/2020) Last week The White Houserecommended guidelines on what a phased-in economy re-opening would look like. Here is the information that will be helpful for business leaders as we begin planning this for our organizations, families, etc.
For continued COVID-19 resources, make sure to visit check our website and Constant Contact emails.
---
(Updated 04/16/2020) This morning the HBA of Dayton, as part of our ongoing Tools for Your Business Webinar series, had Alex Kohls, Senior Arena Manager for the Small Business Administration, provided valuable information for our members regarding programs available for businesses. You can see the entire slide deck HERE.
Additionally, there are other resources for our members:
https://home.treasury.gov/policy-issues/cares/assistance-for-small-businesses
https://www.resources4business.info/businessfirst/recession.html
---
(Updated 04/13/2020) Here is a list of Banks Providing Loans and PPP & EIDL Comparisons.
Additionally, NAHB is urging members, and all residential construction companies, to halt work for at least 10 minutes on Thursday, April 16, for a COVID-19 Job Site Safety Stand Down to educate workers on what they should do to keep themselves safe from coronavirus and to help "flatten the curve" for everyone.
As part of the safety stand down, members are being asked to pause all work for at least 10 minutes to relay coronavirus safety precautions, such as maintaining a distance of no less than six feet with others at all times, cleaning and sanitizing frequently used tools, equipment, and frequently touched surfaces on a regular basis and ensuring the proper sanitation of common surfaces and equipment. The safety information can also be distributed digitally (through email and/or text).
---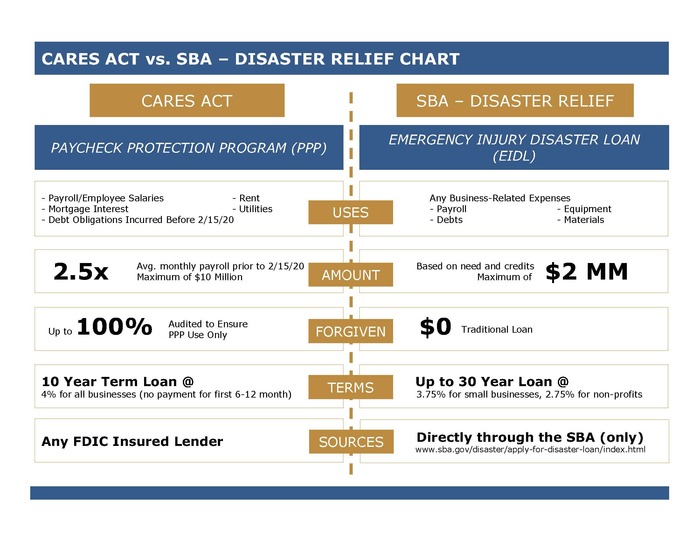 NAHB has created an online document, CARES Act and Small Business Lending Programs, that offers more details about these small business lending programs, including the conditions required for loan forgiveness.
As noted above, the two SBA lending programs are critically important because, for many businesses that meet key conditions on the use of these funds, the loans may be forgiven.
NAHB has also prepared an online FAQ for businesses considering applying for a PPP 7(a) loan. The FAQs cover eligibility, purposes for which funds can be used, loan forgiveness conditions, and documents needed for an application.
---
(Updated 04/01/2020) The Treasury Department released the application for the SBA 7a Paycheck Protection Program PPP loans which you can access here.
Small businesses and sole proprietors can apply beginning this Friday, April, 3, 2020; independent contractors and the self-employed can apply beginning next Friday, April 10, 2020. Applications go directly to SBA lenders, which you can find through the SBA website.
Attached are the PPP Borrower Information Fact Sheet for small businesses to help keep their employees employed.
---
(Updated 03/27/2020) Please find NAHB resources pertaining to the CARES Act by following this link. Additionally, we are providing more information on the SBA Disaster Assistance Resources for Businesses for our members.
---
(Updated: 03/25/2020) During the COVID-19 press conference, Governor DeWine and Lt. Gov. Husted made it very clear, ENFORCEMENT of Stay At Home Order is coming and should be expected. Below is a list of bullet points to prepare as best you can.
READ the Order, and use your best judgment under the plain reading of the Order. See the following with OHBA Stay at Home Recap and Guidance.
DOCUMENT. Please download this HBA Dayton - Stay at Home Compliance Note or have your own documentation ready on how you deem your work as an essential business and be able to justify operations. See this list of exempt trades.
SAFETY PROTOCOLS. Have supplies, soap, masks, sanitizer, etc., to show compliance with Section 18 of Stay At Home Order. MUST have safety procedures in place to be able to stay open as an essential business.
ENFORCEMENT. Be prepared to stay at home, and be told to stop operations if you can not comply.
---
(Updated: 03/24/2020) Please see the following .pdf for the Ohio Home Builders Association's "Stay at Home" recap with interpretations: OHBA Recap.
---
OHBA officers have unanimously agreed to require all members to implement the NRP Construction job site protocols. OHBA has advised the DeWine-Husted Administration this is done to assure a safe workplace for all employees.
Please continue to adhere to the following guidelines: NRP Construction - Infectious Disease Safety Protocol
---
(Updated 03/23/2020) SBA Resources