Details

September 23 (12:00PM) - 25 (6:00PM), 2022
LAST WEEKEND! Homearama® Touring Edition
presented by CenterPoint Energy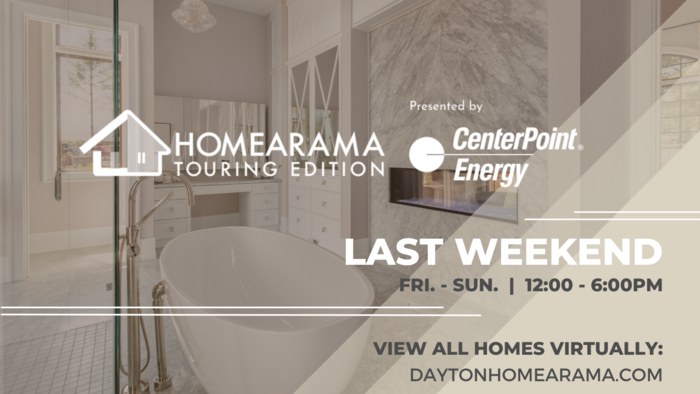 Stay Updated: Touring Edition is back!! This year you can tour virtually AND in person.
2022 Homearama Touring Edition presented by CenterPoint Energy
Featuring new homes from across the Dayton region
September 9-25
FRIDAY - SUNDAY
IN-PERSON TOURS AND VIRTUAL MATTERPORTS + VIDEO TOURS
---
HOW TO ATTEND:
Start anywhere on the route and see as many homes in any order you wish.
SHOW TIMES:
Friday - Sunday | 12:00 - 6:00PM
HOW TO VIEW:
The virtual Homearama will be available on our redesigned and enhanced user experience at DaytonHomearama.com. You do not need to enter a unique code to access the virtual parade.
ADMISSION IS FREE:
No Tickets are required.
Start at any home on the tour in person or online and see as many as you'd like on the tour.
Add to Calendar
aCLuDhaqizCaPxAftmqF167204
09/23/2022 12:00 PM
09/25/2022 06:00 PM
false
LAST WEEKEND! Homearama® Touring Edition
  Stay Updated: Touring Edition is back!! This year you can tour virtually AND in person. 2022 Homearama Touring Edition presented by CenterPoint Energy Featuring new homes from across the Dayton region September 9-25 FRIDAY - SUNDAY IN-PERSON TOURS AND VIRTUAL MATTERPORTS + VIDEO TOURS --- HOW TO ATTEND: Start anywhere on the route and see as many homes in any order you wish. SHOW TIMES: Friday - Sunday | 12:00 - 6:00PM HOW TO VIEW: The virtual Homearama will be available on our redesigned and enhanced user experience at DaytonHomearama.com. You do not need to enter a unique code to access the virtual parade. ADMISSION IS FREE: No Tickets are required. Start at any home on the tour in person or online and see as many as you'd like on the tour. All at www.daytonhomearama.com
----