Complete Story

01/29/2018
Home Builders Association of Dayton Installs Leadership for 2018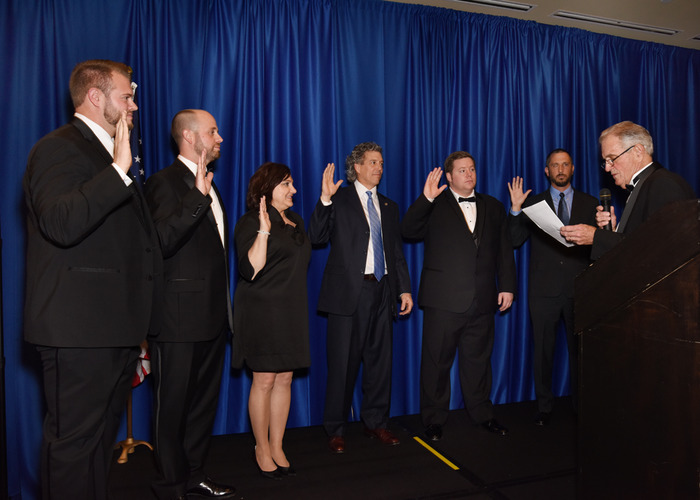 The Home Builders Association of Dayton has transitioned its leadership for 2018, positioning itself for the future of the industry. Taking the reins for the upcoming year from the 2017 president, home builder John Peebles, is Josh Dungan of JM Dungan Custom Homes.
Josh Dungan is a third generation home builder and a talented young builder that will help reshape the Miami Valley for many years. His company has a tradition of building high performance, energy efficient new homes in the Dayton area for more than 50 years. JM Dungan Custom Homes' knowledge, experience and longevity in an ever-changing industry ensures that the families they work with will have a stylish, comfortable and quality home that will meet their needs and lifestyles for many years.
The Dungan family also has a long history with the Home Builders Association of Dayton. Jim Dungan, founder of JM Dungan Custom Homes and grandfather to Josh, began the proud family tradition of home building and service to his industry as vice president for the Home Builders Association of Dayton in 1982. Mike Dungan, Jim's son and Josh's father, served as president of the Home Builders Association of Dayton in 1986, and then served as president of the Western Ohio Home Builders Association in the late 1990s. Mike Dungan has been an active member of the Association for the entirety of his career and was named Dayton's 1992 Builder of the Year.
Following in his father's and grandfather's footsteps, Josh Dungan seeks to use his leadership skills and insight for home building and the Dayton market to strengthen the Association.

Josh Dungan was born and raised in this area and takes great pride in being called a Daytonian. Josh started at a young age in the residential construction industry. Beginning with jobsite cleanup and later advancing to interior trim carpentry, Josh was able to learn the home building trade as he gained additional responsibilities. While studying Construction Management at The Ohio State University Wooster campus, Josh continued to work within Dungan homes during summer breaks. As he continues to hone his skills as a home builder, Josh is committed to continuing a proud family tradition of providing quality housing for new homeowners.
A ceremonial Presidential Inaugural and Awards event was held on Saturday, January 27 at County Club of the North in Beavercreek, Ohio. The ceremony brought together industry leaders, elected officials and friends of the Association to honor the 2017 Home Builders Association of Dayton leadership, welcome and install the 2018 Board of Directors, and present prestigious industry awards to many well deserving people and organizations.
Joining Josh Dungan on the 2018 Executive Committee is Vice President Dona Niswonger of Union Savings Bank; Treasurer Donald Stewart of Hammerman, Graf, Hughes & Company, Inc.; Secretary Robi Simms of Charles Simms Development; Immediate Past President John Peebles of Peebles Homes; Brian Moore of Radian Custom Builders; and Greg Page of Gregory S. Page Co., LPA.
The returning officers for the Home Builders Association of Dayton's 2018 Board of Directors are Dan Brower of Select Kitchen Design and Cain Doliboa of Catalyst Homes. Returning council leaders are Large Volume Builders and Developers Council Chair Scott Dorsten of Trails Partners, LLC; Past Presidents Council Chair Adam Zengel of Adam Zengel Builder; Remodelers Council Chair Victor Rooney of Greater Dayton Construction Group; and Small and Custom Builders Council Chair Brian Albrecht of Rhoads Estate Homes, Inc.
New officers to the 2018 Board of Directors are Todd Casey of 84 Lumber, Erika Deady of Oberer Homes, and Chad Newdigate of Flooring America. The new Sales, Marketing and Associates Council Chair is Alan Lee of The Requarth Company.
"The 2018 Home Builders Association of Dayton's board of directors is composed of dedicated individuals who are passionate about the future of the Dayton home building industry," said the Association's new president, Josh Dungan. "Featuring a wide range of industry representation, this board will strive to strengthen the Dayton region by promoting the residential construction industry. The Home Builders Association of Dayton will continue to provide opportunities to showcase its members and drive new business to them. The Home Builders Association of Dayton will engage with city and state officials while looking for solutions to the labor shortage problems that are affecting many of our members. This board is excited for the challenges that 2018 may bring and each individual is prepared to think of creative solutions to issues facing residential construction and adapt, as many aspects our industry are evolving rapidly."